Automated Sampler Systems
Automated Sampler System Overview
Meter Engineers' automated sampling system is a PC based system with a remote PLC control system. A windows-based design simplifies the operator interface and reduces the time for operators to become proficient with the system. Point and click, pull-down menus, and tab driven functions make choices easy and readily available for the operator. The system features integrations for scheduling information, interface considerations, net barrel counts, end of batch indications, and customer-specific parameters into a completely automated user-friendly sampling solution.
Features at a Glance
The Meter Engineers automated sampling system has been designed to accurately and reliably create composite samples from a pipeline batch stream. Remote access and on-site intelligence allow for reliable unattended operation. Retained sample representation is greatly improved, due to multiple small samples taken per batch. Samples are retained on the rack in seamless aluminum cans. Samples are held under pressure to minimize vapor loss. Scheduling information is entered through a Windows-based spreadsheet interface that allows for easy editing of schedule parameters. New schedule data can be entered directly into a spreadsheet. Batches can be inserted, deleted, or modified with a minimum of effort and operator training.
The composite sample is very accurately obtained from the user-specified parameters and schedule. The system automatically compensates for variations in the piping to the field unit and in the system, line fill to a particular can. Several batches can be sampled before operator intervention is required. A virtually unlimited number of batches can be scheduled. Automatic printing of labels for cans and event logging.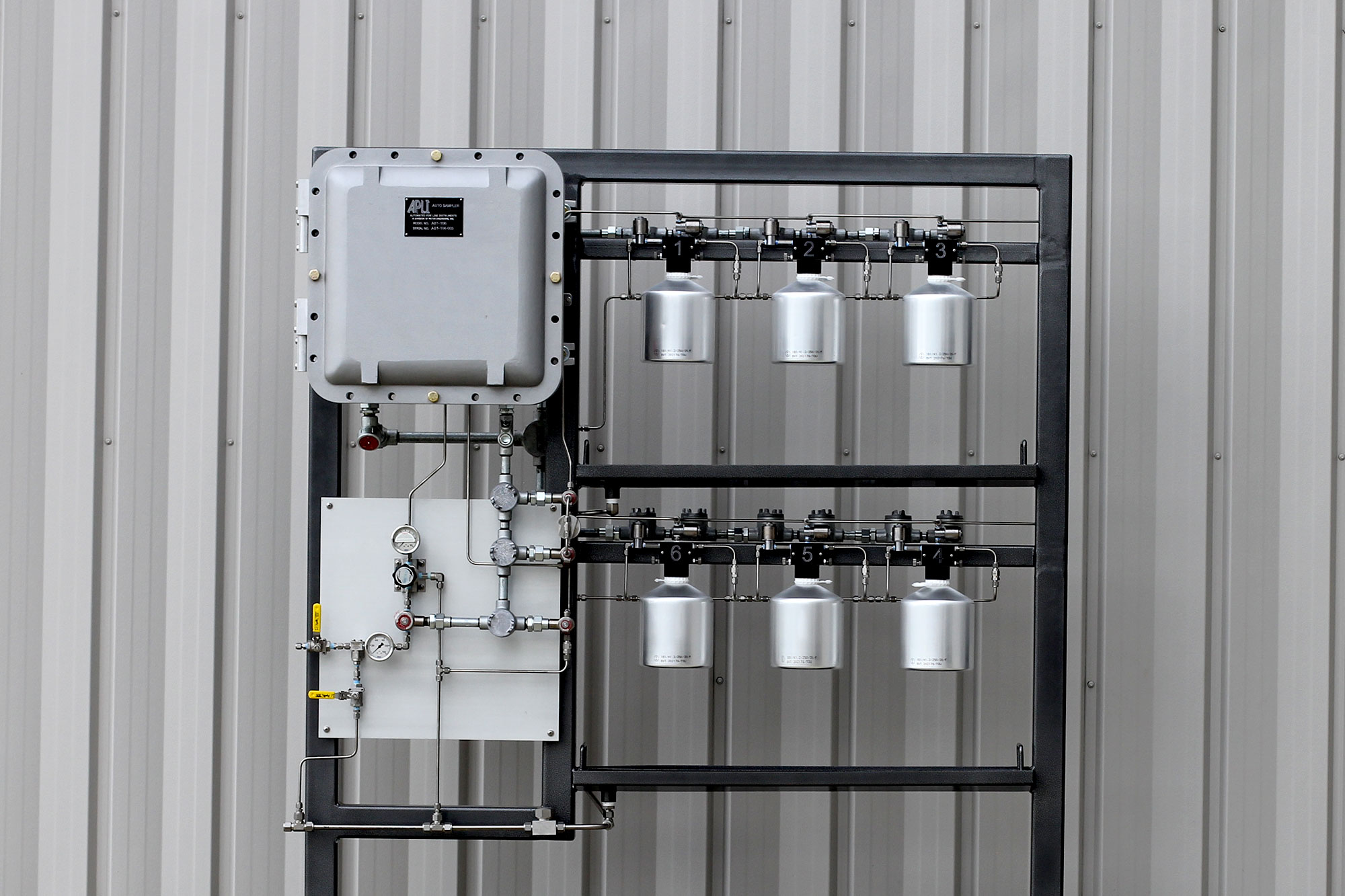 Model Specifications
Mechanical Specifications
| | |
| --- | --- |
| Sampler Layout | 1 Line 2 Cans |
| Max Pressure | 2000 PSI |
| Product Range | Hydrocarbons and other processed liquids |
| Product Inlet | ¼ Stainless Steel Tubing |
| Product Drain | ½ Stainless Steel Tubing |
| Samples Per Batch | 400 Quantity |
| Sample Filtration | 140 Micron T type filter supplied |
| Dimensions | 10L X 6H X 2D |
Electrical Specifications
| | |
| --- | --- |
| Input Voltage | 115 VAC 60HZ at instrument and computer |
| Input Current | 3 AMPS at the instrument |
| Status Inputs | BBL CT, End of Batch, Remote Shutdown, Malfunction, etc. |
| Status Outputs | System Malfunction, Operator Intervention Required |
Have Questions?
Product Support
From our floor to in-the-field, Meter Engineers products are manufactured and supported with rigorous detail. We proudly stand behind our products as a world-class support team; ready to assist customers when and how they need it. We are here for you.
Sales Inquiries
Do you need a metering solution for a specific application or flow rate on a job site? Or perhaps, you are looking for a custom prover product that delivers accuracy and dependability, but needs to adhere to some unique requirements? Contact our sales team, today!
Let's Stay In Touch
Meter Engineers continuously strives to develop the most innovative solutions for the Petroleum Industry and our customers. Sign up and be the first to know about products, services and support because exciting news is always worth sharing.