Volumetric Tank Provers
Volumetric Prover Overview
A Small Prover Footprint With Big Business Impact
Atmospheric with a dry-bottom design, the Meter Engineers volumetric tank prover is used in the calibration of oil flow meters for fiscal, allocation or custody transfer measurements when moving from one entity to another. The flexibility and compact size of the equipment is what makes the volumetric tank so highly valued.
Depending on the volume requirements of a meter, our engineers can design the optimal vessel to achieve your specific proving needs. There is added confidence knowing all Meter Engineers volumetric tanks are built according to American Petroleum Institute Chapter 4.4 and National Institute of Standards and Technology 105-3 recommendations – an accuracy of ±0,05% or better.
Features at a Glance
Advantages of Meter Engineers Volumetric Tank Provers
We build our tanks like a tank. Solid 304 stainless steel construction and in a variety of prover design configurations (skid, trailer or chassis mounted) to fit your needs, but can accommodate most custom prover requests if a unique specification is desired. All Meter Engineer tanks incorporate a bottom diffuser plate at the point of liquid entry. The nature of this design prevents swirl or vortex formations from developing trapped air and effecting overall accuracy; another reason why Meter Engineers leads in the field.
Portable or Stationary configuration
304 Stainless Steel tank construction or optional carbon steel
Optional Class 1 Dev 1 (explosion proof) pump on portable units
Scully overflow protection or comparable system
Built-in spirit levels with adjustable/lockable legs
Adjustable scale assembly calibrated in gallons and cubic inches
Ladder with platform for 1,000 Gallons or larger
Variety of inlet and outlet sizes
Sight flow indicators
Vapor recovery system
What Capacity Do You Need?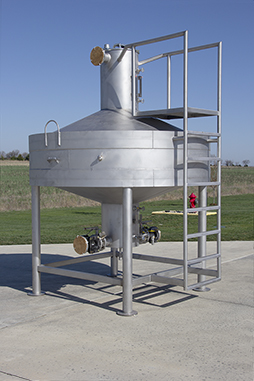 Model Specifications
Dimensions
| | | |
| --- | --- | --- |
| Description | Model | Dimensions |
| Height | A | 132 in |
| Width | B | 96 in |

Note:
1. Dimensions "A", "B" are for overall dimensions (+/- 1″).

2. All dimensions are subject to change without notice.
Downloads
Your access to full specifications, product brochures, operation manuals, and more. Want additional information? Sign up below to be the first to know!
Have Questions?
Product Support
From our floor to in-the-field, Meter Engineers products are manufactured and supported with rigorous detail. We proudly stand behind our products as a world-class support team; ready to assist customers when and how they need it. We are here for you.
Sales Inquiries
Do you need a metering solution for a specific application or flow rate on a job site? Or perhaps, you are looking for a custom prover product that delivers accuracy and dependability, but needs to adhere to some unique requirements? Contact our sales team, today!
Let's Stay In Touch
Meter Engineers continuously strives to develop the most innovative solutions for the Petroleum Industry and our customers. Sign up and be the first to know about products, services and support because exciting news is always worth sharing.