RF3 Rapid Flash Systems
Rapid Flash Overview
The Rapid Flash is a microprocessor-based flash point monitoring system. It provides pipeline operations personnel with the capability of automatic product flash point monitoring. The unit can be used locally or remotely for batch interface cutting or transmix injection. Deviations in product flashpoints can be monitored with user-programmable high and low alarm setpoints. Out-of-spec sections of a batch, which would normally reduce the overall quality of the batch, can then be cut out. The system requires approximately 30 seconds to perform a flashpoint reading with a programmable delay between readings from 0 to 9999 seconds. The flashpoint is determined by drawing air through a product sample chamber to develop a gas vapor. This vapor is then passed through a sensor chamber that measures the product's lower explosive limit (L.E.L.). The sample temperature, L.E.L., and API gravity (API gravity must be supplied to the Rapid Flash as a 4-20 may signal) are then used to calculate the product flashpoint. The system is currently tested for measuring various grades of fuel oil, kerosene, and Type A jet fuel. The flashpoint reading is supplied as a 4-20 ma output signal (scaled 0-250 F or 0-200 F) and can also be displayed on a laptop or tablet computer, either locally at the unit or remotely at the control room. A laptop or tablet computer can also be used to monitor the system operation, configure the system or troubleshoot problems.
Features at a Glance
The RF3 Flash Point features improved reliability and reduced maintenance:
Note: Tests have shown the Rapid Flash automatic inline flash point monitor will produce similar flash points that are comparable to the ASTM D # standard: however, the RF2 is not intended to be used as a laboratory instrument. Nor does it duplicate the accuracy set forth by the ASTM D93 standard.
Automatic shutdown and startup with a user supplied status input.
Automatic shutdown and startup on product that is out of sensor range. (gasolines, etc.)
Redundant sensors with autozero and automatic switchover are now a standard feature.
Alarm output on system malfunction.
Remote access via Ethernet or optional WiFi
Event and alarm logging
Flash point and gravity trending
Touch screen computer included for monitoring, diagnostics, and configuration.
These features and many more make the Rapid Flash a valuable component in the overall scheme of pipeline automation.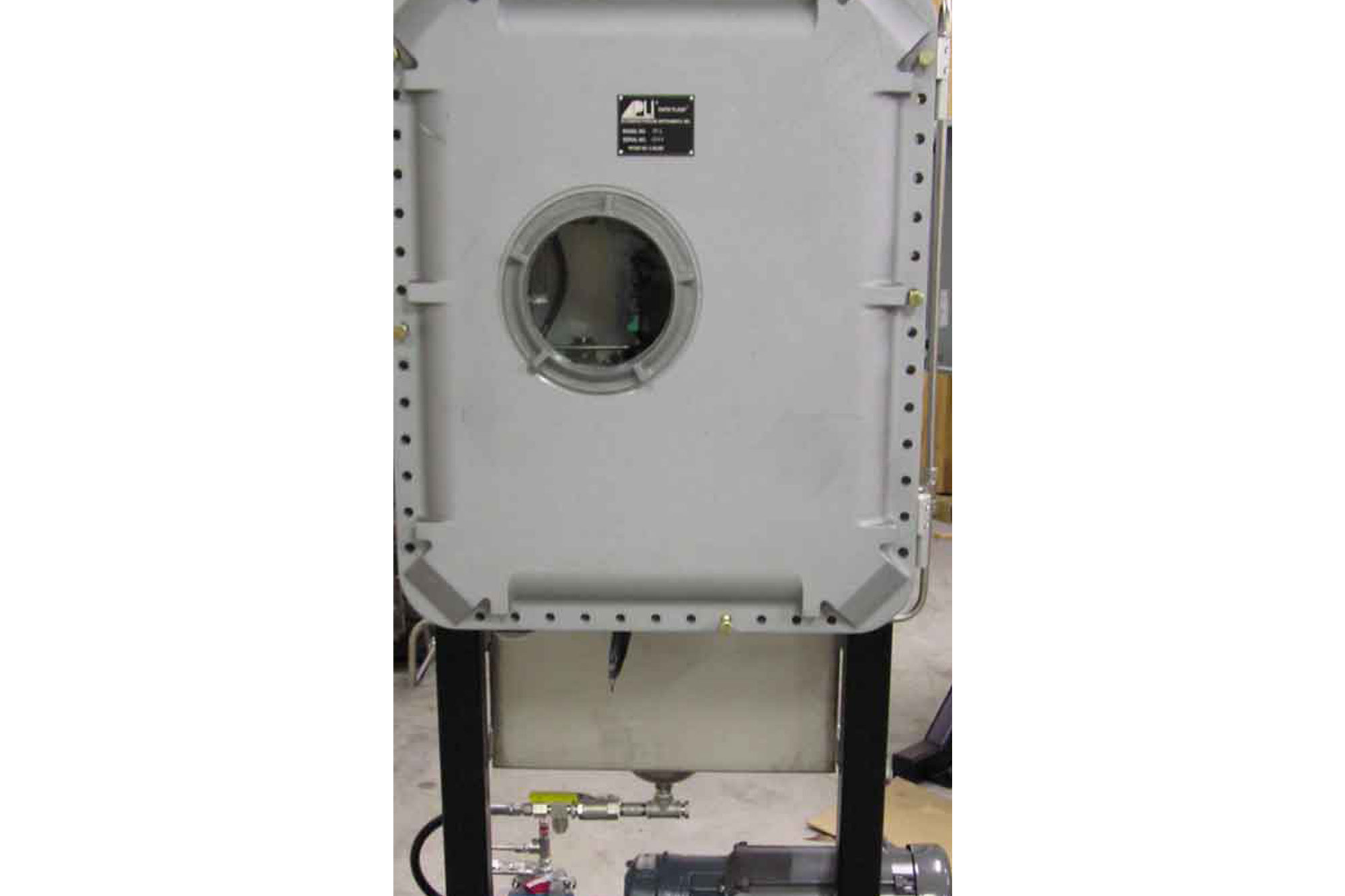 Model Specifications
Mechanical
| | |
| --- | --- |
| Mounting Frame | 30″L x 75″H x 24″ W (base) |
| Enclosure | 24in x 30in x 8in |
| Weight | 850 pounds |
| Sample Volume | 1 Per flash cycle (75-100 ml approx.) Varies with line purge time. |
| Inlet | 1/4″ Stainless steel tubing |
| Drain | 1/2 Stainless steel tubing |
| Pressure | 10 Psig min, 1500 psi working pressure |
| Sample Filtration | 140 micron T-type filter supplied 100 mesh filter supplied (if needed) |
Electrical
Analog Input

Gravity 4-20ma (2 conductors shielded) Default 20-70 (user scaled) linear or non-linear scale (user selectable)

Analog Output

Flash Point 4-20ma (2 conductors shielded) Scaled 0-200 or 0 F. (user selectable)

Status Outputs

Malfunction Alarm (dry contact) 100 VDC / 130 VAC .5 amp max.

Setpoint Alarm (dry contact) 100VDC / 130 VAC .5 amp max.

Alert / Service Needed Alarm (dry contact) 100 VDC / 130 VAC .5 amp max

Status Inputs

Line flow status 24 VDC (external dry contact closure req.)

Oil / Kero Select 24 VDC (optional external dry contact closure)

Input Voltage

115 VAC 50/60 Hz

Input Current

5 AMPS

Communications

Ethernet Connection, Optional WiFi available for remote monitoring, configuration, and diagnostics. Call for details specific to your site
Have Questions?
Product Support
From our floor to in-the-field, Meter Engineers products are manufactured and supported with rigorous detail. We proudly stand behind our products as a world-class support team; ready to assist customers when and how they need it. We are here for you.
Sales Inquiries
Do you need a metering solution for a specific application or flow rate on a job site? Or perhaps, you are looking for a custom prover product that delivers accuracy and dependability, but needs to adhere to some unique requirements? Contact our sales team, today!
Let's Stay In Touch
Meter Engineers continuously strives to develop the most innovative solutions for the Petroleum Industry and our customers. Sign up and be the first to know about products, services and support because exciting news is always worth sharing.