Pipeline Haze Analyzers
Haze Analyzer Overview
The Haze Tracker is a quality control instrument for pipelines to track the clarity of the product being transported. Also known as the Pipeline Haze Rating System, this instrument simulates the ASTM standard D4176. The system provides continuous (4 second) updates of product integrity via a CRT located in the Control Center. As the pipeline industry continues to improve the productivity of the workforce, this unit will become essential in providing accurate and continuous observations of product color and clarity.
Features at a Glance
Our Pipeline Haze Analyzer features the best in quality:
Sight Glass
High pressure rating of 1800 PSIG working pressure.
Constructed from stainless steel with triple layer Pyrex safety glass
Automatic flushing/cleaning of lenses.
Communication
Video transmission to remote monitor with standard twisted pair wiring.
Analog/digital communications via RS-485
Optional Remote Video Access
Computer & I/O
Standard Pentium based computer with special video card and video monitor.
4-20 ma haze rating output for chart recorder/display/SCADA system.
High resolution color CCD camera.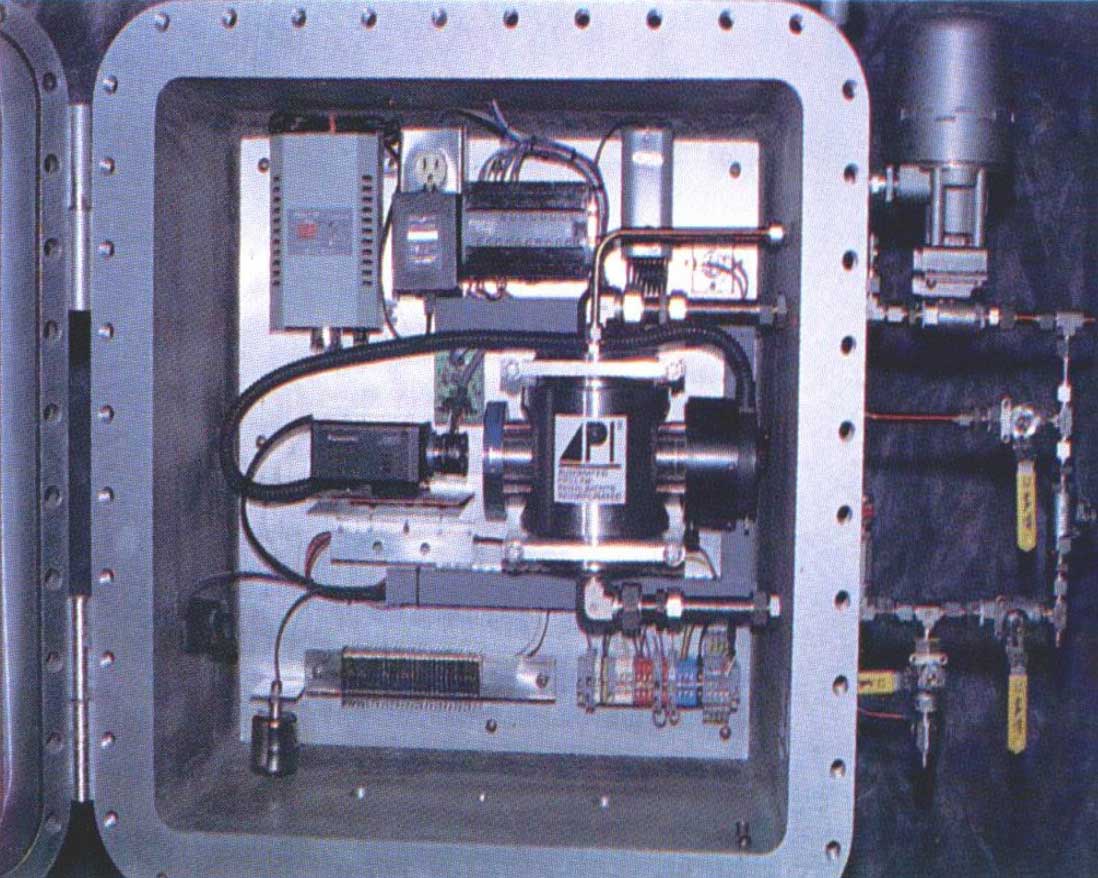 Model Specifications
Mechanical Specifications
| | |
| --- | --- |
| INLET | 1/2 Stainless Steel Tubing |
| OUTLET | 1/2 Stainless Steel Tubing |
| WORKING PRESSURE | 1800 PSIG |
| CUSTOMER CONNECTIONS | (2) Conduit Connections |
| PRESSURE RELIEF | Set at 1825 PSIG |
Electrical Specifications
Input Voltage

115 VAC 60HZ

Input Current

3 AMPS

Watts

360

DIGITAL I/O

System Alarm Output C.C.

Setpoint Alarm Output C.C.

Leak Detect Output C.C.

Flash Input C.C.

ANALOG I/O

4-20ma Haze Output Scale 0-6

4-20ma Gravity Input Scale User Selectable (Customer Supplied)

4-20ma Temperature Input Scale User Selectable (Customer Supplied)
Have Questions?
Product Support
From our floor to in-the-field, Meter Engineers products are manufactured and supported with rigorous detail. We proudly stand behind our products as a world-class support team; ready to assist customers when and how they need it. We are here for you.
Sales Inquiries
Do you need a metering solution for a specific application or flow rate on a job site? Or perhaps, you are looking for a custom prover product that delivers accuracy and dependability, but needs to adhere to some unique requirements? Contact our sales team, today!
Let's Stay In Touch
Meter Engineers continuously strives to develop the most innovative solutions for the Petroleum Industry and our customers. Sign up and be the first to know about products, services and support because exciting news is always worth sharing.