Detector Switches
Detector Switch Overview
Our patented switches combine all the best industry technology into one proven detector switch. Each detector switch is adaptable to any switch base, with little or no additional expense. Our switches are a great economical choice for detecting the passages of spheres in pipelines and meter provers.
CLASS 1, DIV 1 AND HERMETICALLY SEALED
Features at a Glance
Meter Engineers detector switches are designed with outstanding quality in mind.
TEFLON bushing guided for smooth activation. There are no metal-to-metal friction points.
Self-purging probe eliminates the need for bleeding air from the switch housing. Also, equalizes internal pressure in the switch housing to eliminate pressure resistance.
Self-cleaning – Wiper blade that travels past the magnetic switch, before the activation surface passes, to remove any metallic material that may build up in the magnetic field.
No expensive extensions for underground applications. Just add a 1/2″ rigid conduit riser to bring the wire termination box to a desired height. However, if the customer chooses to have the switch body above grade, extensions can be supplied for an additional cost.
The electrical elements have a UL, Class 1, Div 1 rating and they are hermetically sealed. ATEX Certification can be provided at an additional cost.
Easy wiring – There are only 4 colored wires to connect. (Black = Common, Blue = Normally Open, Green = Ground, Red = Normally Closed)
No adjustments make this switch easy to replace and extremely tamper proof.
Low maintenance (easy to install TEFLON bushing replacement kits.)
Adaptability – Adaptable to any switch base on the market with little or no additional expense.
Switch Element Performance
Repeatability: .002″ (.05 mm) typical
Response time: 8 milliseconds
Operating temperature: -40F to 221F
All detector switches are capable of 2000 PSI. A higher pressure test is available at customer request.
Every switch mechanism is factory tested for repeatability and accuracy.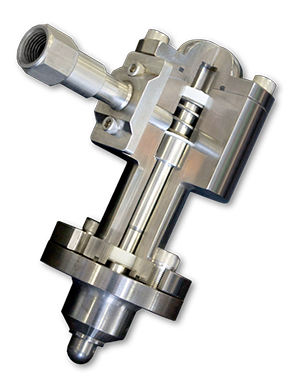 Model Specifications
Switch Base Measurements
Please furnish dimensions A & B or C when ordering

A: Top of switch base to top of pipe

B: Pipe wall thickness

C: Top of switch base inside of pipe.
Electrical Element
| | |
| --- | --- |
| Housing Size | Standard Probe Lengths: 1.025 in / 26 mm |
| Housing Materials | Stainless Steel Bar Stock |
| Conduit Outlet | Mini-change Standard |
| Sensing Target Material | Ferrous |
| Sensing Range | Approx. .090in / 2mm @ 3000 PSI |
|  Contact Material | Palladium Silver |
| Form | Single Pole, Double Throw |
| Rating | Resistive |
| Performance Repeatablity | .002in / .05mm typical |
| Response Time | 8 milliseconds |
| Differential | Approx. .020in / .51mm |
| Operating Temperature | -40°F / -40°C to 400°F / 204°C |
| Pressure Rating | Stainless Steel 3000 PSI operating (UL tested 4x burst) |
| Approvals | UL and CSA |
Replacement Parts
MEI-SE Switch Element
MEI-BK Bushing Kit (Includes busing, O-rings and spring)
MEI-P Replacement Probe
MEI-SE-BK Switch Element & Bushing Kit
MEI-SE-BK-P Complete Rebuild Kit
O-Rings ONLY
Standard Spring
Heavy-Duty Spring
Downloads
Your access to full switch specifications, product brochures, operation manuals, and more. Want additional information? Sign up below to be the first to know!
Have Questions?
Product Support
From our floor to in-the-field, Meter Engineers products are manufactured and supported with rigorous detail. We proudly stand behind our products as a world-class support team; ready to assist customers when and how they need it. We are here for you.
Sales Inquiries
Do you need a metering solution for a specific application or flow rate on a job site? Or perhaps, you are looking for a custom prover product that delivers accuracy and dependability, but needs to adhere to some unique requirements? Contact our sales team, today!
Let's Stay In Touch
Meter Engineers continuously strives to develop the most innovative solutions for the Petroleum Industry and our customers. Sign up and be the first to know about products, services and support because exciting news is always worth sharing.